'Blaze of Light' now available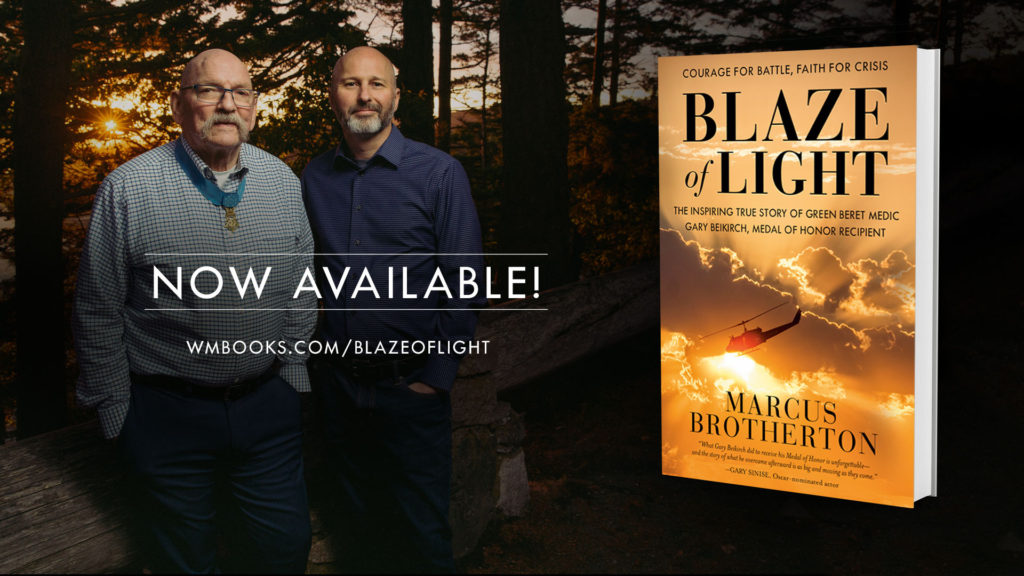 For fans of Unbroken and Hacksaw Ridge comes an incredible true story—
After dawn, the siege began. It was April 1, 1970, and Army Green Beret medic Gary Beikirch knew the odds were stacked against their survival.
Some 10,000 enemy soldiers sought to obliviate the 12 American Special Forces troops and 400 indigenous fighters who stood fast to defend 2,300 women and children inside the village of Dak Seang.
For his valor and selflessness during the ruthless siege, Beikirch would be awarded a Medal of Honor, the nation's highest and most-prestigious military decoration. But when he returned to the States, he faced his most difficult fight yet.
To conquer the battle at home, he chose an unlikely solution—one that involved the harsh wilderness of the northern Appalachians and an indomitable will to survive.
Blaze of Light is a powerful story twice over—for the tale it tells, and for the redemption it surfaces. It's the kind of story you read then pass along to a friend, a story that nudges its way into your soul to heal your own wounded spirit.
You won't need to be a war-history buff to devour Blaze of Light. You just have to love a great book.
.
Purchase from AMAZON
See the book trailer HERE:
Read a sneak peek HERE:
.
Praise for BLAZE OF LIGHT:
.
"The Medal of Honor Society is comprised of a highly elite group of American heroes. What Gary Beikirch did to receive his Medal is unforgettable—and the story of what he overcame afterward is as big and moving as they come."
—Gary Sinise, Oscar-nominated actor
"[A] riveting biography … This gripping story of courage, honor, and faith will appeal broadly, both to readers interested in war accounts as well as those seeking an affecting tale of recovery and redemption."
—Publisher's Weekly
"Those who have experienced battle say time expands. Seconds feel like minutes, and minutes and hours stretch into virtual time warps. Marcus Brotherton successfully illustrates such perception of time in his telling of Gary Beikirch's harrowing story. He propelled me into the darkness of impending doom with speed and precision, while casting light on the humanity and bravery of the characters who inhabited the pages I blew through. It left me thoroughly inspired and honored to have "met" yet another hero who earned the Medal of Honor."
—Eric Blehm, New York Times bestselling author of Fearless
"From the wind-blast of landing choppers to the sensory assault of close-quarters battle, Blaze of Light put me right in the middle of the steaming jungles of Vietnam. Gary Beikirch was grievously wounded and facing a ruthless enemy, and his selfless choices made him the rarest of war heroes—one whose valor is measured not in lives taken, but in lives saved."
—Lynn Vincent, New York Times bestselling author of Indianapolis
"You will be blessed by this story of amazing courage and selflessness. What happened on April 1, 1970, at Camp Dak Seang in the Kontum Province of South Vietnam forever changed the life of Gary Beikirch. He is a true American hero, a man of humility, faith, and servant leadership. This story is so powerful it could change your life."
—Colonel Jim Coy, (Ret), 3rd SFG, Persian Gulf War
"I was on the Nixon White House staff as Gary Beikirch was serving in Vietnam's jungles. As the White House looked at the mega-issues of the War, we too-easily lost sight of the incredible micro-moments of heroism displayed by Gary and others, and so skillfully described by Marcus Brotherton in Blaze of Light. Marcus shows the intensity of the war in the compound where Gary fought, but also the pathos in the soul of the warrior. This book sheds needed light in an age when many are trapped in the darkness of PTSD."
—Wallace Henley, former White House and Congressional aide, coauthor of God and Churchill, with Sir Winston Churchill's great-grandson, Jonathan Sandys.
.
Purchase from AMAZON
.